Season Three, Episode Title - Heart's Desire.
Written by Alan Brennet.
Directed by Mario Azzopardi.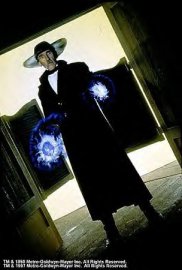 Sam Elliott as the Alien Visitor
When a mysterious alien visitor arrives in the Old West town of Heart's Desire, he offers to share his extraordinary powers with four outlaws. Powers that will make the outlaws virttually invincible. Taking on the human form of his first victim, a mild mannered preacher, the alien follows the outlaws to Miller's home town. The Keltons start a crime spree destroying anything and anyone in their path with blasts of pure energy. Jake struggles with the issue of divided loyalties between his love for his family and his childhood sweetheart, Miriam. The question is who is the mysterious stranger and why has he given the outlaws such deadly power.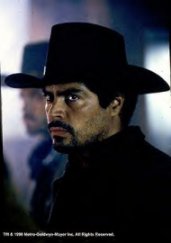 Esai Morales as Frank Kelton
When the Alien Visitor returned to his "normal" alien shape it was Tim inside that suit! Look closely and I defy you to spot him. Tim's part in the programme was uncredited.