Once more Talbot comes to the rescue setting up the finale which allows, Don to kick the butt of Rafendek whilst Talbot takes part in a prolonged and exhausting display of kick boxing, eventually polishing off Rafendek's evil and demented side kick.
So is this worth watching? Erm... if you are a fan of Tim or any of the other actors who take part probably. If you want a deep amd meaningful film then don't look here. If you want escapism then this will be a little too gung ho unless you are American. Be warned the ending is a little too much for this viewer and those of a sensitive disposition may need a sick bag handy (no offence intended).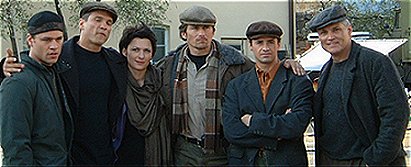 Troy, Daniel, Daniella, Tim, Terence and Marshall.